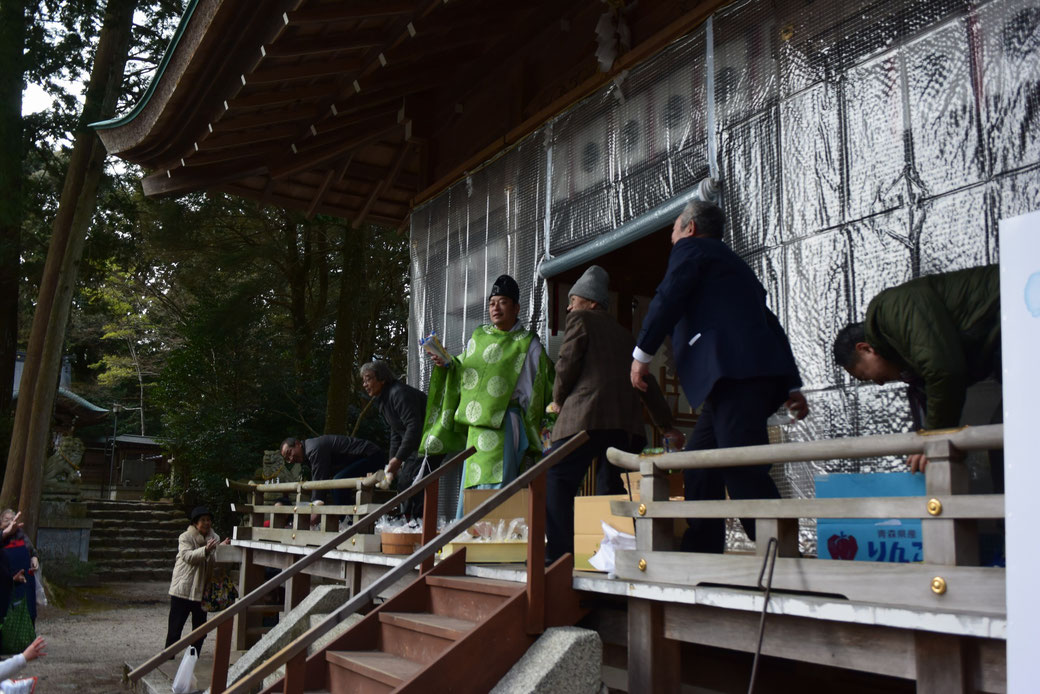 An annual event 'Mochi Rice Cake Throwing' was held at the shrine we visit during our Mochi pounding tour. Local villagers prepare Mochi rice cakes from early morning in order to offer them to the Shinto god in return for the perfect health and safety of family members. Afterwards, Mochi rice cakes that have been blessed by the Shinto god are distributed among the villagers.
From ancient times, Mochi rice cakes have been considered to bring good luck. Local villagers come together to receive this luck by gathering and collecting thrown Mochi rice cakes. 
Not only Mochi rice cakes but also Ramen noodles and sweets were thrown, causing a lot of laughter among the participants. You may encounter such local events during the tour if you are extra lucky. We hope you will join our Mochi pounding tour to see and learn about the local life of people in the countryside.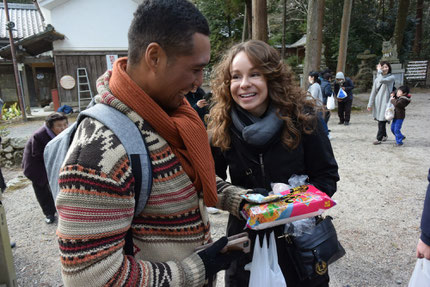 お餅つきのツアーで訪問する神社で「餅まき」の行事がありました。
地域の人たちが朝早くからお餅を準備して、神さまに捧げて無病息災や家内安全をお祈りし、その神気が宿ったお下がりを皆で有難くいただくのです。
お餅は古来より縁起の良いものとされていて、そのご利益にあやかろうと地元の方がにぎやかに集まり、放られたお餅を拾いまわります。
お餅のほかに、ラーメンやお菓子も飛んできて、笑い声に包まれた楽しいひと時でした。
Tour du lacのツアーでは、運が良ければ、こんな地元ならではのイベントにもご案内いたします。
是非楽しいお餅つきツアーをご体験下さい。